Starting at an added $13,750, the performance specialist offers extras such as special wheels and customizable exhaust, but no engine upgrades.
Roush Performance has been upgrading Ford products for years, making them more capable for on- and off-road use, and now the Ford specialist has shown its upgraded 2020 F-150 that'll start at an additional $13,750.
It's available on either the F-150 XLT or Lariat, keeping the stock engine options; the XLT starts at $36,105.
The 2020 Roush F-150 features a Roush grille that reminds us of the prominent Ford grille on the F-150 Raptor, and what we saw on the Bronco R off-road race prototype's grille, larger fender flares, and a bed-mounted light bar. There are also "R" puddle lamps for when the doors are opened (Mustangs have this as well, but with the pony logo).
The 2020 Roush truck is ready to dominate off-road trails thanks to a Fox 2.0 off-road suspension system and 20-inch newly designed Roush wheels mounted with General Tire Grabber AT/X tires.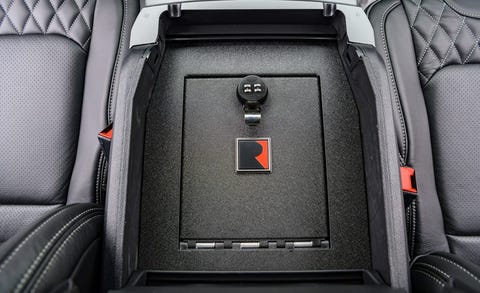 Roush Performance
It'll sound good, too. An optional dual-tip exhaust system can be adjusted between four modes: touring, off-road, sport, and custom, which can be customized through the Roush Active Exhaust phone app. There's also an optional vault hidden within the center console. There is no doubt that we'd choose these two options.
Connor Hoffman | Car And Driver | December 5, 2019 | https://www.caranddriver.com/news/a30141111/roush-2020-ford-f-150-priced/